Modern waterproofs jackets are lightweight, comfortable and stylish, but selecting which one is right for you can feel a bit confusing. That's why we have picked some key features to look for in our handy waterproof jacket guide.
Whether you need something for your daily commute, you're planning on climbing a mountain or maybe even both, there is a waterproof to keep you dry and comfortable, come rain, sleet or snow.
Whatever the activity, the requirements of all waterproofs are the same
Firstly, they have to keep you dry, no matter how hard it is raining.
Secondly, they need to breathe. This means that sweat vapour produced can escape.
Finally, they need to keep you comfortable. This not only means keeping you dry, but is also about helping your temperature remain consistent.
What Do You Need Your Jacket For?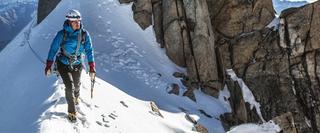 Many waterproof jackets are designed with an activity in mind.
Some are made for high paced activities like running or cycling. These make breathability their main feature; helping to keep you comfortable by allowing all the extra heat and sweat vapour to escape.
Others balance durability, waterproofness and breathability, and are for sports such as mountaineering or ski-touring. These use hardwearing waterproof fabrics that may feel stiffer on the body but can stand up to the demands of the mountains, such as abrasive rocks or carrying a heavy rucksack.
The majority of people however need a jacket that provides everyday protection and sits between these two extremes. The good news is that this selection of jackets is very wide, allowing you to choose from a large range of colours, brands, prices and fits.
You may be drawn to a jacket that is particularly light or you may prefer something that feels strong, but as long as your needs are not overly specialised, you are free to choose the one that you like the most.
How Does A Jacket Keep You Dry?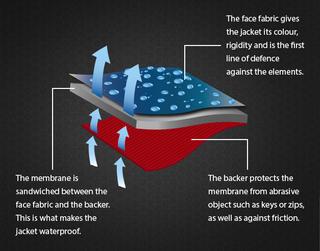 The membrane is a highly sophisticated material that has many microscopic holes across its surface. These holes are so small that liquid water cannot get through but are large enough to allow vapour to pass freely.
There is another technique that replaces the membrane with something called a 'coating' or 'laminate'. This process involves 'painting' on a rubber-like material that when dry, seals the jacket in a similar way to a membrane. This technique makes a range of cheaper waterproof jackets that, depending on your requirements, may be more appropriate. You can read more by going to our Waterproof Technology page.
I want a good Waterproof Jacket material; does it have to be Gore-Tex®?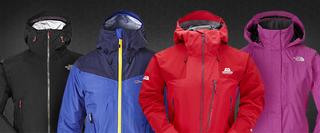 You may be familiar with a technology called GORE-TEX®. This is by far the best known waterproof membrane and thanks to its good track record, many brands choose to use it in their garments.
However, some experts feel there are other options that are just as effective. Some brands are so confident in alternatives that they choose not to use GORE-TEX® at all, whilst others choose to use it in some items and develop their own membranes in others. At Cotswold Outdoor we stock a wide variety of options, so you can choose which one is best suited to you.
But What Features Should I Look For?
Now you are familiar with the ins-and-outs of waterproof jackets, we can look a little closer: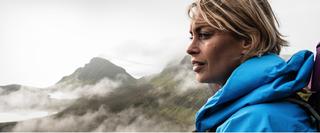 How the jacket fits is largely subjective. Some like it long enough to cover the waistband, whereas others prefer it short and tailored. However, if you want it for a specific activity, there are a number of things to consider when trying on. With climbing for example, are the pockets high enough to be clear of your harness, or can you still see your feet? Or if you want it for running, is it tailored enough to avoid flapping about and increasing drag?
You also need to think about things like; do the sleeves cover your wrists as you move your arms around? Is the material too tight across the shoulders and underarms? Remember, you may wear the jacket in a range of temperatures, so think carefully about the number of layers underneath and choose the fit accordingly.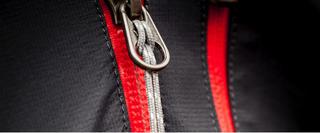 Some modern jackets use what is called a hydro-seal zip. This is a rubber mechanism that binds shut when closed. Others use a storm baffle which is a piece of material that folds over the zip. Both of these versions are very effective, the hydro-seal style is lighter and less bulky, whereas the storm baffle approach is a bit more durable.
Some jackets also have pit-zips. These follow the underarms and can be opened if you get too hot. All jackets should be breathable, but this addition really helps keep you comfortable. If you know you are prone to overheating, these can be a great feature.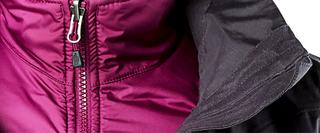 A waterproof should be thought of as a shell, protecting you and the layers underneath from the elements. Therefore many waterproof jackets have no insulating properties. However some waterproof jackets are called 3-in-1 jackets and these have a detachable, insulating layer. These options are great for around town as they can be adjusted all year to suit your needs.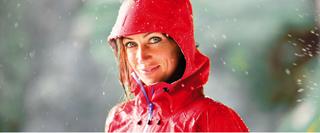 A hood should do one thing, protect your head and face against the elements. Good design can make even the most hideous rainstorm feel like a light shower. You may see a hood with a wire peak, this is a brilliant feature which enables you to 'customise' the fit, shape and level of protection your hood can offer, dependant on the conditions. You will also notice that some hoods are a little larger, this is to accommodate a helmet, which can be a very useful option.
When putting the hood up make sure it firmly fastens around your head and face without obstructing your vision, that the peak forms a protective shield for your eyes and that it is easy to turn your head without limiting your movements.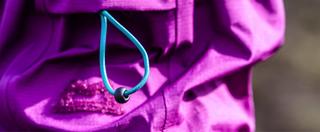 No matter how good your waterproof is, there will always have to be holes for your head, hands and legs. But if the jackets cannot be effectively sealed around these breach points then it cannot keep you dry. Good quality drawcord and Velcro closings are vital.
Velcro tabs around the wrists should be easy to seal and elastic pull-cords should be intuitively placed. It is often the finer details such as these that truly separate quality outdoor designs from the alternatives you may find on the high street.
Check out a selection of our best waterproofs for the new season
Wondering whether it's time to replace your waterproof? Read our guide to see whether it's time to reproof, replace or repair.